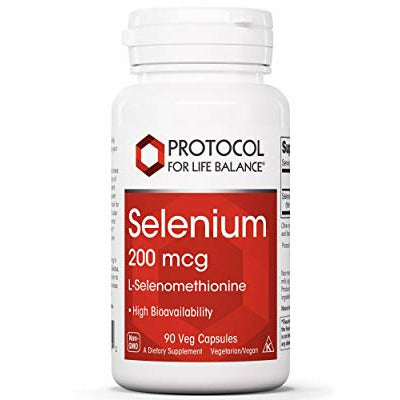 CURRENTLY ON BACKORDER
Destroy harmful free radicals in your body and support normal thyroid function with Selenium Capsules from Protocol for Life Balance®. This dietary supplement does not contain egg' gluten' soy' milk' corn' wheat' yeast' starch' salt' sugar' shellfish' or preservatives.
Selenium' like L-selenomethionine' reportedly strengthens the immune system and inhibits the growth of harmful cells in your body. This essential trace mineral could potentially promote cardiovascular health' regulate mood balance' and support prostate health in men. Studies reveal that selenium reduces muscular weakness and fights fatigue as well.
Selenium in this dietary supplement from Protocol for Life Balance® reportedly alleviates respiratory discomfort' combats bacterial and viral infections' and decreases low-density lipoprotein and triglyceride levels in your blood. It may also support the function of vitamin E in your body and promote general well-being.
Incorporate Selenium Capsules from Protocol for Life Balance® in your every day diet and it may combat inflammation and free radical damage' maintain healthy metabolism' and increase longevity.
Serving Size: 1 Veg Capsule

Amount Per Serving / % DV

Selenium (From L-Selenomethionine) 200mcg / 286%

Other Ingredients: Rice flour' cellulose (capsule) and stearic acid (vegetable source).