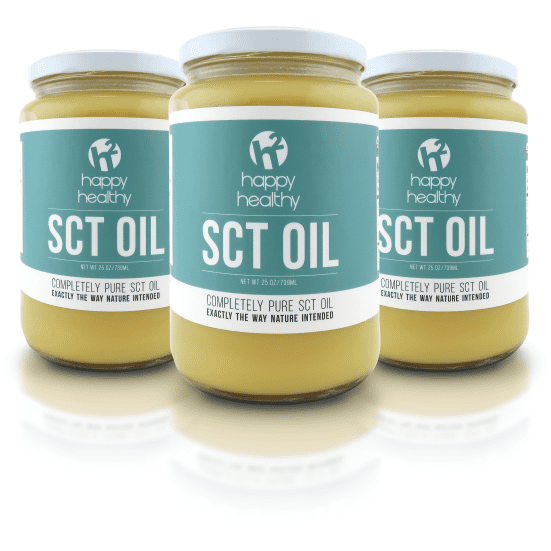 Is Pure SCT OIL Gluten and Sodium FREE?
Absolutely! 
Are there any fractionated or trans-fats in Pure SCT OIL?
Never! Our process to refine Pure SCT OIL is meticulous, labor-intensive, and respectful of the healthy and natural state needed to yield the most benefits.   
What if I am Lactose or Dairy Intolerant?
Our team has gone OVER and ABOVE to make sure that all Lactose, Casein, and Protein Solids have been removed from our Pure SCT OIL before it makes its way to your mouth and your tummy! So, if you are Lactose intolerant, you will be okay with Pure SCT OIL! 
How much can/should I use?
We recommend 1-2 servings a day, but it tastes so good you will want to do more! WARNING: You may want to hide it from other family members. Once they taste it, they will be hooked too! 
When should I use Pure SCT OIL?
If you are only going to use it once a day, we recommend that you use it with your FIRST meal of the day. However, if you are anything like us, we like to use it for EVERY meal of the day and WE especially LOVE to use it in our Coffee…YUMMMM!!!
Is Pure SCT OIL made in the USA?
Proudly Yes! Also USA packed and distributed.  
How many servings are in a jar? 
There are 32 Servings in a 16 oz. jar (a month supply).
How many calories are in a serving?
There are 117 delicious calories per serving. NONE of them are from sugar…because there is NO SUGAR!  
Can kids use Pure SCT OIL?
Absolutely! Kids love the taste and it's a great way to get them to drink their healthy smoothies or eat their veggies! 
We searched HIGH and LOW to make sure that our Pure SCT OIL is 100% Certified USDA Organic. 
Where do the ingredients come from?
Our source of quality Pure SCT OIL comes ONLY from certified-humane Jersey cow dairies, who pride themselves in mindful practices with the care of their grass-fed animals. The love for their cows is reflected in the buttery richness of our Pure SCT OIL!
Can I use Pure SCT OIL all by itself? 
YES! Our proprietary oil is cultured at very low temperature so all the vital enzymes and goodness remain intact. We have found that Pure SCT OIL is even better and more therapeutic in its "RAW" state! 
Can I cook with Pure SCT OIL? 
You betcha! Pure SCT OIL has a HIGH smoke point (485 degrees Fahrenheit), even higher than coconut oil! Called the "liquid gold" of the culinary oils, Pure SCT OIL is the perfect fat for cooking, sautéing, and frying! 
Excellent product.
Amazing taste. Sweeter than My homemade ghee and absolutely delicious on everything. Great customer service.
Life altering goodness
SCT is an effective oil that provides amazing effects to health and wellness. I love preparing food and hot beverages with this staple. It is obviously good stuff, it's sold out :)
Finally can enjoy "butter" while avoiding dairy!
Finally can enjoy "butter"!! It's a delicious, healthy treat for someone who has to avoid dairy. I really appreciate how beneficial it is to my body.
Just Too Good!
Once you taste this, you'll never go back! It's truly amazing. I eat out of jar with a bit of manukau honey and nut butter. It's like desert! Oh yeah, it's great butter too on everything!