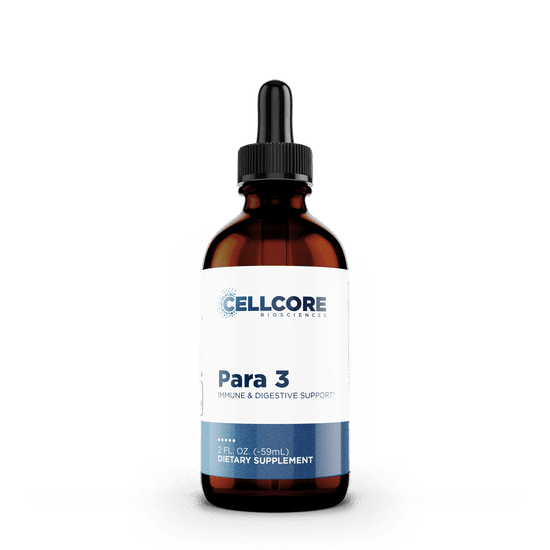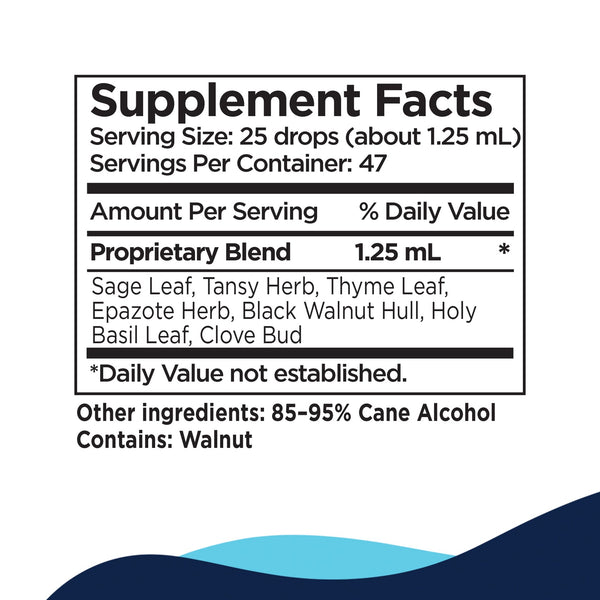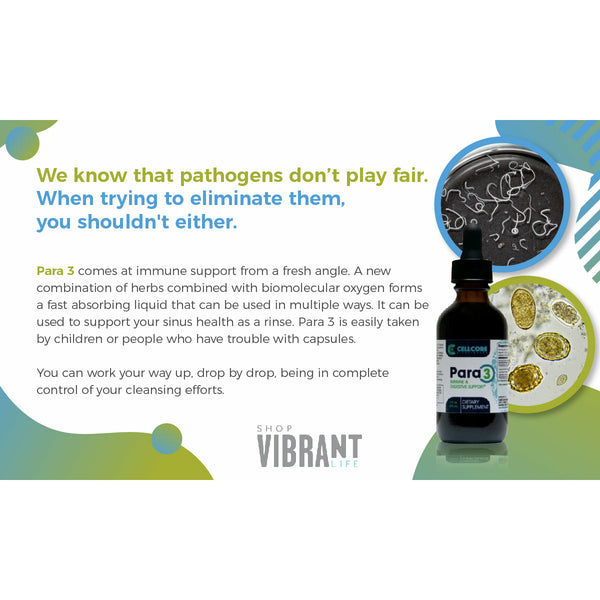 We know that pathogens don't play fair. When trying to eliminate them, you shouldn't either.
Para 3 comes at immune support from a fresh angle. A new combination of herbs (great when combined with HydrOxygen) that forms a fast absorbing liquid that can be used in multiple ways. It can be used to support your sinus health as a rinse. Para 3 is easily taken by children or people who have trouble with capsules.
You can work your way up, drop by drop, being in complete control of your cleansing efforts.
Each of these seven herbs have their own unique benefits when it comes to immune health and detox. They work synergistically to "cover more ground together" than they could alone, enhancing your detoxification protocol.
THYME: Damages the intestines and the outer wall of parasites, and also helps to fight Candida.
SAGE: A strong antiparasitic and helps protect your liver.
TANSY: Helps paralyze parasites.
HOLY BASIL: Boosts your immune response and helps protect internal organs.
WORMSEED (Epazote): Helps the gut and is an antioxidant.
BLACK WALNUT HULLS: Damage the parasites protective defenses.
CLOVE: Increases immune response and helps the liver.
HYDROXYGEN
This heroic herb combination hits hard on many pathogens but is especially geared for Strongyloides, liver flukes, Clostridium, and Blastocystis hominis. You can take BioActive Carbons in addition to Para 3 to supercharge the medicinal properties of the herbs and boosts detox, while giving your cells the components they need to repair as pathogens leave. It helps to bind to toxins and remove them from the body.

My favorite Cell Core product!
Para 3 is my go to for just about anything these days! Especially if I've been around a lot of people. I also have livestock so I'm exposed daily to all sorts of little critters nobody wants to host. Also bug bites be gone! I put one drop on and they're gone by the next day.
Works well
I haven't gotten rid of anything crazy but I have gotten rid of pinworms and other small parasites I did not think I had. It has been about two weeks and I keep getting rid of them. I'm only 23 years old and surprised I've had this many parasites, let alone any at all. Everyone should try Para 3 out because you never really know if you have these things inside of you.
I would want to know if Para 1, 2, and 3 target different specific parasites. I think Para 3 targets parasites in the gut, while the others target them in different areas of the body. I would like more information on this to become a more informed buyer. I haven't seen any other products this effective, Cellcore is a rather unique company when it comes to detoxing the body.
Whole new level of recovery
Worked up to 6 dropper fulls at a time and feel like I've reached a whole new level of healing. This product really helps clear the critters. Although...not a product I would used without months of preparing my body. There is a correct protocol for using all these wonderful tools. Make sure you are informed.