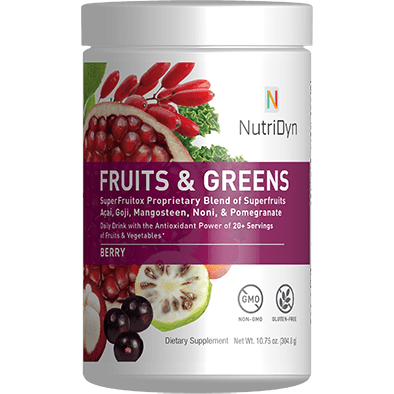 NutriDyn Fruits & Greens-Berry
Dynamic Fruits & Greens in a Delicious Berry Flavor Dynamic Fruits & Greens Berry by Nutri-Dyn is a delicious, gluten-free, antioxidant-packed powdered drink mix featuring super-fruits, whole-food concentrates, dairy-free probiotics, fiber and enzymes. Naturally sweet, great-tasting Berry flavor. Antioxidant Super-Fruits and Greens What makes a fruit super? A high vitamin, mineral and antioxidant content. Antioxidants are "free-radical scavengers" that can help counteract the effects of oxidation from the stress, chemicals and toxins we may encounter on a daily basis. This drink mix includes a proprietary antioxidant blend of the following notable super-fruits (plus many other highly nutritious berries and fruits): • Goji berries, pomegranate, acai berry, mangosteen and noni fruit Additional antioxidant support comes from the following: • Quercetin, Resveratrol, Vitamin C, Non-alcoholic Red Wine extract, Red Grape Seed extract This product also contains nutritious vegetables and other green superfoods, including: • Spirulina and Chlorella -- noted for their detoxifying properties • Kelp -- sea vegetable high in minerals and B vitamins • Decaffeinated Green tea extract -- noted for antioxidant polyphenols Get high-quality nutrition with superfruits, antioxidants, and a great flavor. Order Dynamic Fruits & Greens Berry.
Ingredient
Amount
Daily Value
Calories
38
Total Carbohydrate
9 g
3%*
Dietary Fiber
0.5 g
2%*
Sugars
3 g
**
Vitamin C (as ascorbic acid)
150 mg
250%
Calcium
24 mg
2%
Iron
0.6 mg
3%
Sodium
30 mg
1%
SuperFruitox Antioxidant Blend: Raspberry Fruit Extract, Black Raspberry Fruit Powder, Blackberry Fruit Powder, Papaya Fruit Powder, Plum Fruit Powder, Strawberry Fruit Powder, Cranberry Fruit Powder, Kiwi Fruit Powder, Watermelon Fruit Powder, Pomegranate Fruit Extract, Quercetin Dihydrate, Grape Seed Extract, Blueberry Leaf Extract, Acerola Berry Powder, Bilberry Fruit Extract, Bromelain, Black Cherry Fruit Extract, Organic Acai Berry Powder, Organic Pomegranate Fruit Powder, Organic Raspberry Fruit Powder, Organic Bilberry Fruit Powder, Organic Blueberry Fruit Powder, Lycium (Goji) Berry Powder, Mangosteen Fruit Powder, Noni Fruit Powder
2.92 g
**
Digestive Enzyme and Probiotic Blend: Fructooligosaccharides, Lactobacillus acidophilus, Protease, Amylase, Lipase, Cellulase, Lactase, Papain, Lactobacillus casei, Lactobacillus rhamnosus, Bifidobacterium breve
2.4 g
**
Vegetable Antioxidant Blend: Carrot Root Powder, Beet Root Powder, Radish Root Powder, Purple Cabbage Leaf Powder, Japanese Knotweed Root Extract, Green Tea Leaf Extract, Ginger Root Powder, Turmeric Root Extract, Kale Leaf Powder, Kelp Powder, Chlorella Cracked Cell Wall Powder, Alfalfa Herb Powder, Spirulina Powder, Broccoli Head Powder
2.03 g
**
Fiber Blend: Oat Bran Powder, Apple Fruit Powder, Aloe Vera Leaf Powder, Prune Fruit Extract
1.73 g
**
*Percent Daily Value (%DV) is based on a 2,000 calorie diet.
**Daily Value not established.
Fruits and Greens
We love this, really yummy healthy treat. We actually mix it with collagen.