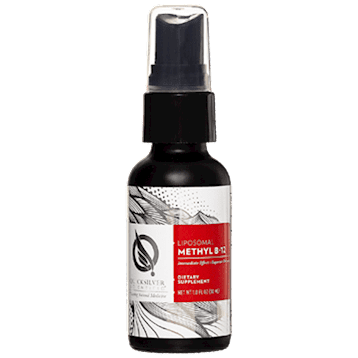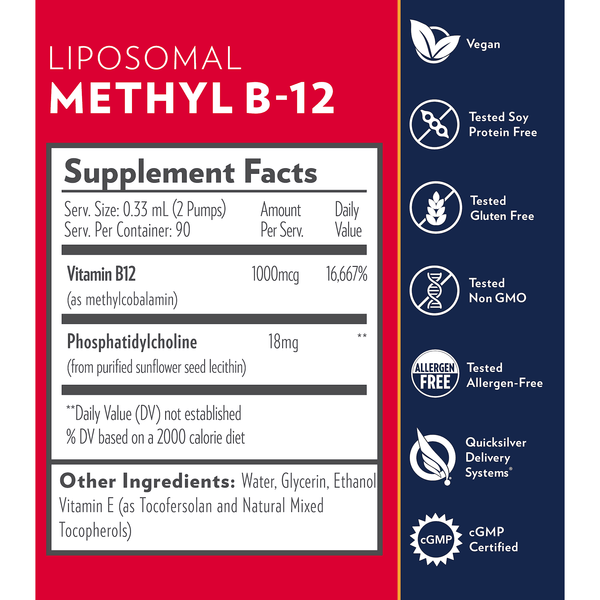 Each .33 mL of Liposomal Methyl B12 delivers 1000 mcg of methylcobalamin. A serving is 2 pumps. Each bottle contains 90 servings.
Methylcobalamin is a highly bioactive form of B12, an essential water-soluble nutrient that is considered critical for DNA and RNA synthesis, red blood cell production, neurological function, mood and memory, and bone and heart health.*
Methylation is fundamental to life itself: it is the process by which protein and DNA are synthesized and sustained in the body. When methylation is slowed we may have trouble detoxifying and ensuring our DNA is stable, healthy and easily repaired.
Methyl B12 is a key, bioactive form of B12 that contributes to both methylation and the synthesis of glutathione. Methyl B12 can be especially important for regulating levels of homocysteine.*
Because age, low stomach acid, and genetic variation can impair absorption of B complex vitamins, Dr. Christopher Shade, Ph.D., developed Liposomal Methyl B12. The liposomal formulation allows the bioactive methylcobalamin to be delivered into the cells and across the blood-brain barrier and into the brain where it is needed.
Quicksilver Delivery Systems® utilizes modern science to unleash the power of nature. With the world's most advanced phospholipid delivery systems, Quicksilver Scientific supplements can help to nourish your cells with phosphatidylcholine as they deliver their core effective ingredients faster and more efficiently.