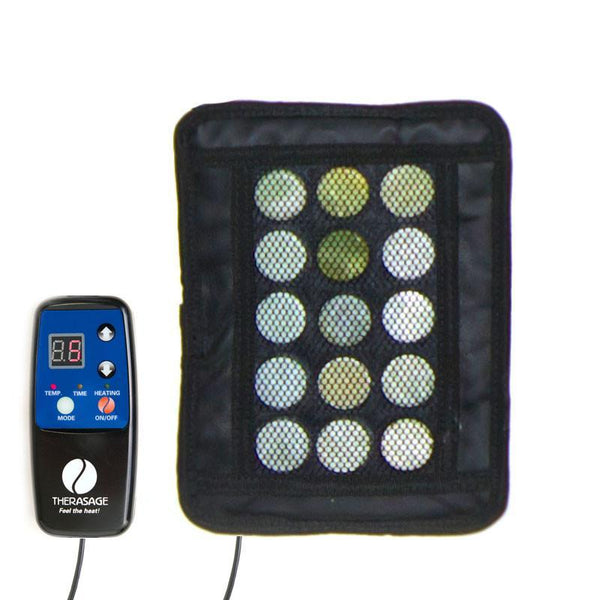 Instant Calmer Healing Pad Mini
Therasage has completely revolutionized personal healing products with its proprietary line of TheraFusion™ Instant Calmer™ Healing Pads.The difference is Infrared heat. Conventional pads use heating coils and emit high levels of electromagnetic radiation, or EMF. Such products only heat your skin. Our unique Far Infrared Pads, with enhanced therapeutic benefits through TheraFusion Technology, effectively relieves pain, increases circulation and naturally removes harmful toxins. Infrared technology is the wave of the future in the health and wellness industry. Our uniquely crafted heating pads, with natural jade stones, use Far Infrared heat to penetrate deep into your body for optimal relaxation and pain relief.
Features & Specifications:
Meets International standards for electromagnetic compatibility, electrical standards, and low voltage directives.

This product is manufactured in a quality inspected facility, internationally certified by Det Norske Veritas (DNV) as to compliance with ISO9001 Management System Practices. Listed with FDA as medical devices and CMS as Durable Medical Equipment devices. Tested for Bio Compatibility and material toxicity.

Minimal Electro Magnetic Fields (EMF)

Antibacterial material

Dimensions:

8" x 10" and approximately 1/2" thick for Square

9 Individual Natural Jade Stones for maximum heat transfer and penetration

Held securely held in place on a 1 1/2" spacing layout

Actual Jade Stone area is approx. 3" by 6.5" (but pad extends from edge to edge) for Oblong and

approx. 4" by 7.5" (but pad extends from edge to edge) for Square

New Easy to Use LED Safety Controller!!!!

Soft Flexible format - contours to your body shape

12' Extra Long Power Cord

Wattage: 45 watts

Standard Voltage: 120V (also available in 220v)

Actual Pad Weight: 1 lbs

Shipping Weight: 3 lbs

One Year Limited Manufacturer's Warranty
Benefits:
Temporary relief of minor muscle and joint pain and stiffness

Temporary relief of joint pain associated with arthritis, muscle spasms, minor strains, and sprains, and minor

Muscular back pain

Muscular relaxation

Temporary increase of local circulation

Therasage Heating Pad features negative ions which are odorless, tasteless, and invisible molecules that we inhale in abundance in certain environments; such as near mountains, waterfalls, and beaches. Once they reach to our bloodstream, negative ions are believed to produce biochemical reactions helping to relieve stress (calming), alleviate depression, boost our daytime energy and increase defense against infection.