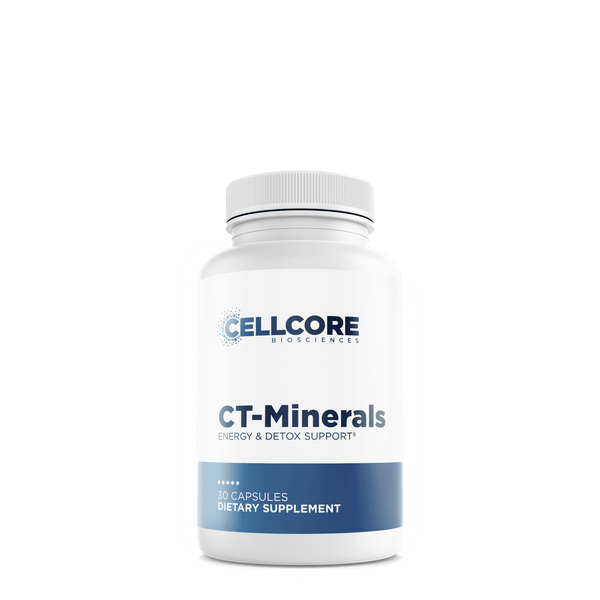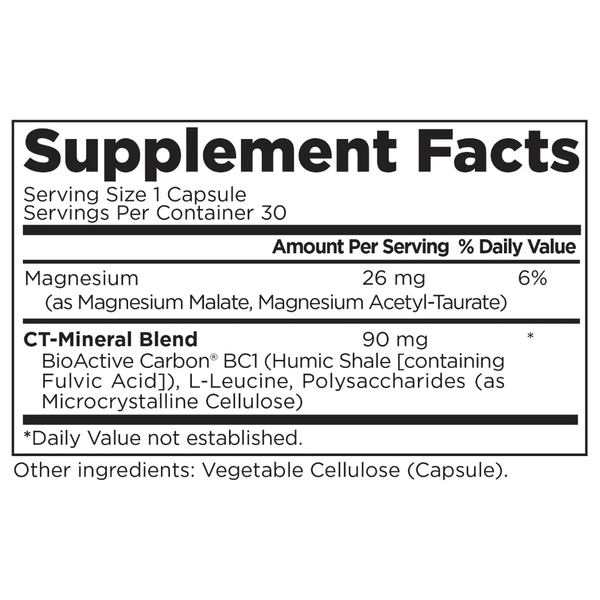 NEW CAPSULES AVAILABLE! 60 ct
The heart of CT-Minerals is the naturally occurring, highly refined and naturally chelated extracts of Fulvic Acid. This means ultra small-sized and ultra-low-molecular-weight 100% organically complexed nano-sized negatively charged ionic molecules which can penetrate human tissue and blood cells easily. Because of these unique properties, this supplement is highly bioactive and can provide numerous biochemical and metabolic detoxification functions.

In addition to containing over 69 naturally occurring, plant-derived trace element minerals, it contains twelve amino acids in an unaltered ionic solution. It is the most rare and valuable of all humic substances known to man.
Composition: Fulvic Acid plant-derived minerals: Antimony, Barium, Beryllium, Bismuth, Boron, Bromine, Cadmium, Calcium, Carbon, Cerium, Cesium, Chloride, Chromium, Cobalt, Copper, Dysprosium, Erbium, Europium, Fluorine, Gadolinium, Gallium, Germanium, Gold, Hafnium, Holmium, Indium, Iodine, Iridium, Iron, Lanthanum, Lithium, Lutetium, Magnesium, Manganese, Molybdenum, Neodymium, Nickel, Niobium, Osmium, Palladium, Phosphorus, Platinum, Potassium, Praseodymium, Rhenium, Rhodium, Rubidium, Ruthenium, Samarium, Scandium, Selenium, Silicon, Silver, Sodium, Strontium, Sulfur, Tantalum, Tellurium, Terbium, Thulium, Thorium, Tin, Titanium, Tungsten, Vanadium, Ytterbium, Yttrium, Zinc, Zirconium
Amino Acids: Alanine, Glutamic Acid, Glycine, Histidine, Isoleucine, Leucine, Methionine, Phenylalanine, Serinine, Threonine, Tryptophan, Valine
These minerals are plant-derived, contain no preservatives, no GMOs, flavorings, no toxic acids, and are extracted using a water method. As with all our products, CT-Minerals contains no fillers.
Best Minerals
I have used many kinds & these are the best! I feel rebalanced each time.
Everything came as described.
Thanks.
Bioactive Carbon Minerals
Like these minerals very much!
I believe the Bioactive Carbon Minerals have done much for giving me energy. They ARE a favorite of mine! Very thankful for them!
I add the minerals to my coffee enema. I can really tell a difference in my energy!