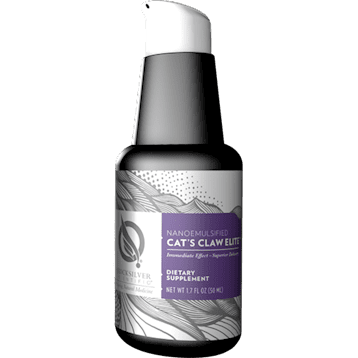 Each 1 mL of Nanoemulsified Cat's Claw Elite® delivers 1000 IU of Vitamin D3 and 350 mg of a proprietary blend of Liquid Cat's Claw bark extract (Uncaria tomentosa), phospholipids (from purified sunflower seed lecithin), monolaurin (as Glycerol monolaurate), Liquid Lemon Balm leaf extract, Lemon Balm leaf oil, Rose flower oil, Natural Mint oil. A serving size is 2 pumps. Each bottle contains 50 one ml servings.
Cat's Claw (Uña de gato) is the centerpiece of this innovative immune supportive formula, which is enhanced with plant-derived essential oils and extracts, Vitamin D and the fatty acid monolaurin, all designed to maximally support the immune system.*
Cat's Claw is a climbing vine that thrives in the Peruvian rainforest—stretching as tall as a thousand feet. Use of the inner bark dates back 2000 years to the Inca civilization, and to this day South American Ashaninka priests regard the plant as sacred, using it for healing and in religious ceremonies.
The most widely utilized strain of cat's claw, Uncaria tomentosa, boasts a treasure trove of phytonutrients thought to be responsible for the vine's reputed healing powers and ability to strengthen immune defenses.*
The fatty acid monolaurin is derived from lauric acid, and is formed naturally in the human body in small quantities. Vitamin D is added to aid normal immune system function and bone health.*
Essential oils derived from spearmint, rose and lemon balm (Melissa officinalis) round out and fortify this unique formula. The fragrant extract of lemon balm is added as well.
Because many herbs have low bioavailability when taken orally, Dr. Shade developed Nanoemulsified Cat's Claw Elite®. Liposomal delivery systems have been shown to lead to more immediate effects and more stable plasma concentrations. In addition to exceptional absorption rates, small liposomal and nanoemulsified particles enhance lymphatic circulation, helping to bypass digestive enzymes and breakdown in the liver. The liposomes in this formula contain pure phosphatidylcholine, a lipid that is the primary building block of all cell membranes.
Quicksilver Delivery Systems® utilizes modern science to unleash the power of nature. With the world's most advanced phospholipid delivery systems, Quicksilver Scientific supplements can help to nourish your cells with phosphatidylcholine as they deliver their core effective ingredients faster and more efficiently.