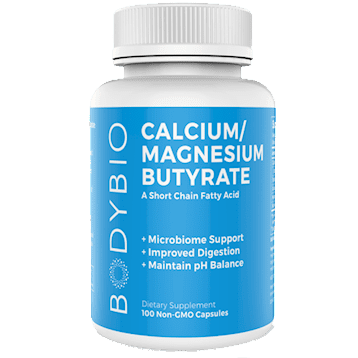 Butyrate is a short chain fatty acid that is a potent detoxifier of ammonia and neurotoxins. Butyrate also encourages the formation of friendly bacteria in the gut.
Supplement Facts
Serving Size: 2 capsules
Servings Per Container: 50
Amount Per Serving
% Daily Value*
Calories
9.3
Calories from fat
8.7
Total fat
1.3g
2%
Calcium
160 mg
16%
Magnesium
80 mg
20%
Butyric Acid
1.2 g
* *
* Percent Daily Values are based on a 2000 calorie diet.
* * Daily Value Not Established
Other Ingredients: Butyric acid, calcium hydroxide, magnesium hydroxide, medium chain triglycerides (MCT), hydroxypropyl methycellulose and purified water.
No yeast, no wheat/gluten, no corn, no soy, no dairy products, no artificial colors, no resins or fillers.

520.5