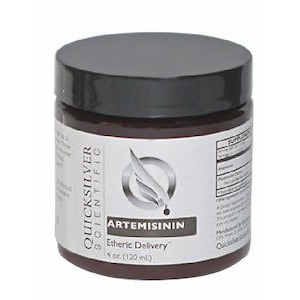 Each bottle contains 40 50-mg servings.
Artemisia annua synthesizes powerful 'bitter' compounds—called sesquiterpene lactones. Bitter molecules are essential to our health. We have over two dozen specialized receptors that detect bitter molecules, lining our tongues, nose, sinuses, lungs, heart, intestines and more. Artemisinin, the active constituent in this formula, has a unique ability to form oxygen radicals, helping explain why it has been so popular with Chinese herbalists, dating back to ancient dynasties thousands of years old.*
Because of the low bioavailability of traditional oral formulations of artemisinin, Dr. Christopher Shade, Ph.D., developed liposomal artemisinin. Liposomal delivery systems protect molecules from breakdown while enabling more rapid uptake. In addition to exceptional absorption rates, these tiny liposomal and nanoemulsified particles increase diffusion across mucus membranes, enhance lymphatic circulation and delivery of nutrients.
Quicksilver Delivery Systems® utilize modern science to unleash the power of nature. With the world's most advanced phospholipid delivery systems, Quicksilver Scientific supplements actually nourish your cells with phosphatidylcholine as they deliver their core effective ingredients faster and more efficiently.
Artemisinin Liposomal 4 oz
Dietary Supplement
Directions: Use 1 tsp 1-3 times per day as directed by your health practitioner. May be taken directly by mouth or mixed into water or juice (Grapefruit juice is best). Store refrigerated and use within 60 days of opening.
Supplement Facts
Serving Size: 5 mL
Servings Per Container: 24
Amount Per Serving
Artemisinin 40 mg
Phosphatidyl Choline 450 mg
Other Ingredients: Glycerin, water, ethanol, phospholipids
A good bitter
Artemisinin is a great, strong bitter herb that goes after parasites. Love this product. I rotate it in throughout the year.
Question reguarding artemisinin emulsion
Hi,
my husband just started taking the product. He is very picky with taste..... he doesn't want to take it anymore after one teasppon..... any tricks you have? Thank you, Lucie carignanosteo@gmail.com
ARTEMISININ EMULSION
This product works as described. Will be purchasing again .